JUCM The Journal of Urgent Care Medicine Article | February 2010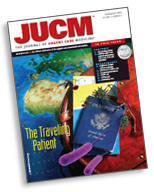 Last-minute preparation for overseas travel may lead many a patient to the urgent care center. Are you also prepared for the patient who presents with particular symptoms after returning froma trip?
Whether a patient visits an urgent care center for an infection or a primary care physician for follow- up, every healthcare provider should inquire about anticipated overseas travel. In addition, if a patient is being evaluated for a potentially infectious agent, inquiries about prior international travel should not be overlooked.
Over 30 million U.S. residents visited overseas destinations in 2008, with approximately 68% traveling to the Caribbean, Central South America, Asia, Africa, and the Middle East. Travelers will visit another country for a vacation, to visit friends and relatives, to teach, study, conduct business, or for religious or humanitarian reasons. Many (if notmost) travelers do not seek medical advice before doing so.
Most travelers prepare extensively for non-medical issues before embarking on foreign travel, but do not check recommendations from the Centers for Disease Control and Prevention (CDC) and World Health Organization (WHO) regarding health risks until the last minute, if at all.
In addition, the majority of insurance companies do not pay for vaccinations and medications recommended or required for foreign travel, placing the financial burden on the patient.
It is our responsibility as clinicians to ensure that patients are educated about the risks of traveling abroad, and to advise them accordingly.